The Power of Nature Journaling in Citizen Science
Whether you live in the Alps or in the middle of a concrete jungle like me, you can start contributing to citizen science research efforts by nature journaling! Help jumpstart your involvement with this FREE DIGITAL NATURE JOURNALING GUIDE SAMPLE!
Hike And Draw LLC is a participant in the Amazon Services LLC Associates Program. As an Amazon Associate, your use of my affiliate links helps support my work. Thanks in advance!
The Intersection of Nature Journaling and Citizen Science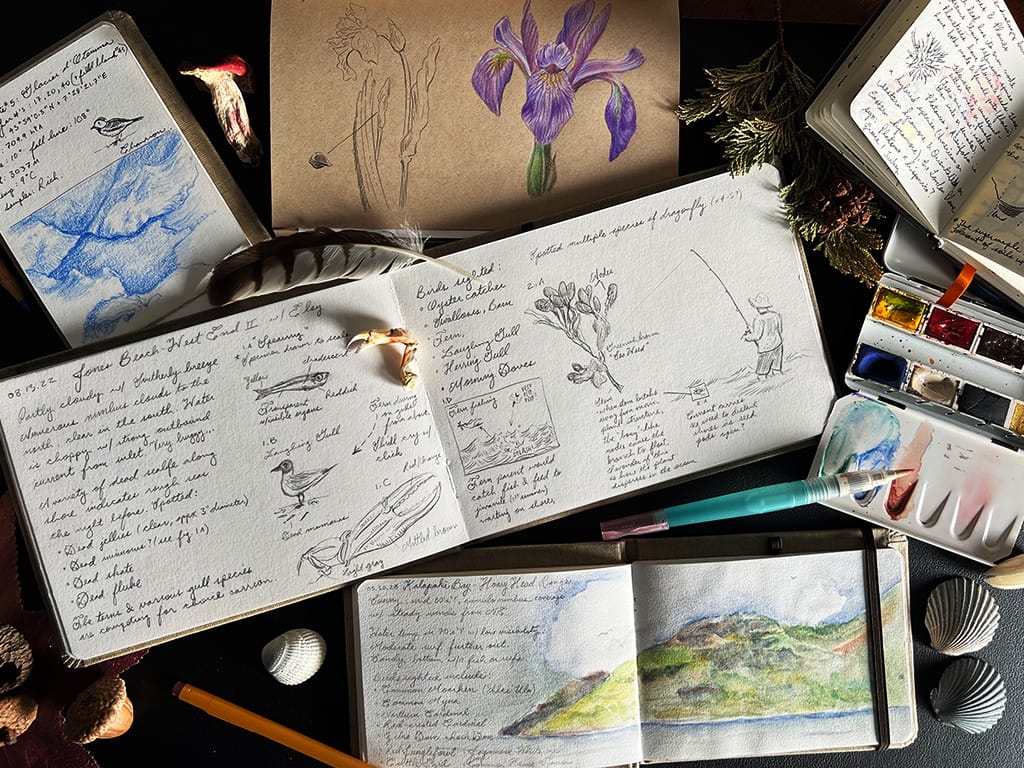 Definition of Nature Journaling
Nature Journaling is a different experience than keeping a diary or a sketchbook. Those who participate in nature journaling have the intention of memorializing their firsthand experiences in nature by blending a desire for knowledge with a deep affection for natural history.
A nature journal is a place to cultivate curiosity, record data, ask questions, and share thoughts. It is a mobile laboratory where an individual might gain mastery over their powers of accurate observation and their understanding of how natural systems operate.
Importance of Citizen Science in Scientific Research
Since the beginning, our ancestors have ventured out into nature in search of answers. Those who were fortunate enough witnessed unexplainable phenomena that were both startling and intriguing. This created a need to understand, which gave rise to more intentional observations over extended periods of time. These observations, combined with repeatable experiments, gave birth to what would become the modern sciences. 
The journals of accomplished explorers and natural historians, many of whom were enthusiastic amateurs in the beginning, connect many important observations like pearls on a string, threaded carefully and intentionally through the ages. Combined, these discoveries form a logical and cohesive whole, a shining jewel which adorns its wearer with a wealth of generational knowledge, (fancy, right?). This is where the rich tradition of Nature Journaling intersects with the modern "Citizen Science" movement.
The problem with spending the broad majority of time in a lab is that projects become more and more detached from their sources. The need for relevant, real-time data is more important for research now than ever before! As such, scientific research teams from the university level to the Smithsonian Institute, have realized the value of tapping into the vast networks of local nature enthusiasts and subject matter experts for their data collecting needs.
Having an army of "Citizen Scientists" to help record data in the field helps keep projects more connected to real time field observations. Strict data collection guidelines help ensure that the observations being submitted by citizen scientist volunteers are up to standard. Even children can participate in citizen science!
The Basics of Nature Journaling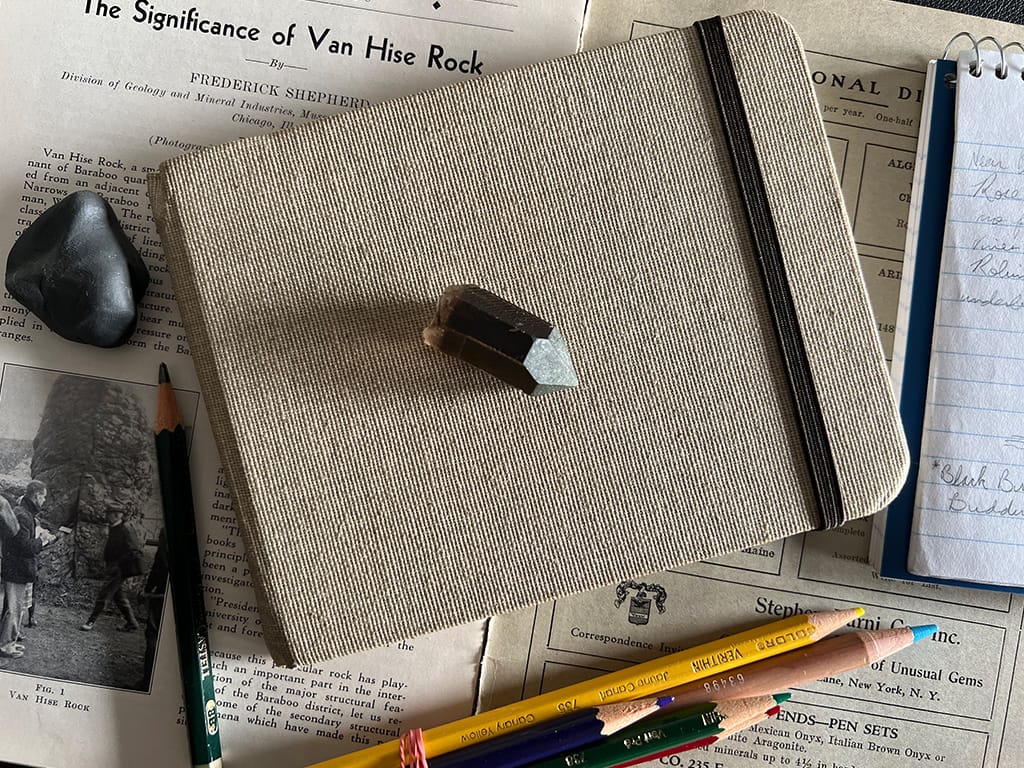 Tools and Materials for Nature Journaling
Nature Journaling is one of the most inexpensive hobbies to try! All you need to get started is a notebook and a pencil. There are many varieties of nature journals, but no superior format. That being said, there are some guidelines you should follow since each format should match your specific goals (more on this, later). For example, a watercolorist might select their journal based on preferences that might not be ideal for a photographer. Some format ideas include sketchbooks, binders with 3-hole punch paper, (for quick editing and page swapping), pocket notebooks, and multi-year calendars, (for comparing observations over long periods of time).
The Role of Artistic Expression in Nature Journaling
No two nature journals are exactly alike. Even if everyone used the same format or method, each journal would be unique because its contents are filtered through the lens of the individual author's thought-process and imagination. Personally, I love drawing in my nature journal. This might sound intimidating to a non-artist, but I've developed a great way to start including sketches in your journal, even if you can't draw a straight line!
Including field sketches not only provides a relatable context for your observations, drawing has also been scientifically proven to improve memory and focus. The act of drawing is also a great way to intentionally focus on something long enough to learn something new about it. This means that the finished drawing itself isn't so much the reward for your effort, but rather the time spent creating in nature and the learnings gained from that experience.
Nature Journaling like a Scientist
Gathering and recording data are wonderful byproducts of nature journaling. This is especially true if you have a specific area of interest that makes your time in nature more enjoyable. Let's call this area of interest your "niche". It's important to spend a moment reflecting on this. 
Start by considering your relationship with the great outdoors. Are you a hiker or wilderness guide? A hunter or bushcrafter? A birder or dendrologist? Maybe you're none of the above and this is your first time answering the call of the wild. Regardless of where you are today, let's consider where you want to be tomorrow, in terms of your knowledge, and focus on the future.
Since there are countless starting points, discovering your niche provides you with an exciting subject to explore. This helps you maintain motivation while unifying your journals with a common subject, or theme, across multiple seasons and years. Not every nature journal requires a specific theme, however.
A general "nature" theme is a great way to explore different topics at once, allowing you to discover what truly fascinates you above all else. If you prefer this approach, consider how your observations could be dedicated to a single location you return to often and record changes over time. Your back yard or a nearby park is a great place to start!
The Role of Nature Journaling in Citizen Science Projects
Citizen Science: A Bridge Between Nature Journalists and Scientists
The majority of modern smartphones have a built-in camera and a connection to the internet. This means that anyone is capable of capturing data in real-time and uploading it to a database. This is what makes Citizen Science such a valuable data collection tool for scientists. Considering the type of project and the level of complexity, this could mean that hundreds of volunteers could participate in a project, worldwide!
Plus, the additional benefit of having a team of citizen science volunteers means that some projects no longer need to provide a field team with expensive recording equipment. What a deal! Research teams are not the only people who benefit in this relationship, however.
Today, there is such a diverse variety of research projects in which to become involved that nature journaling has never been a more exciting hobby. Imagine your nature journal observations being included in actual scientific research! 
My Journal's Role in a Successful Citizen Science Initiative
I was actually fortunate enough to become included in a high altitude climate survey of the Swiss/French Alps. The 2022 HLR Expedition project was started by Dr. Al Gill and Robin Milner. Initially they were just curious as to whether the historic High Level Route route was still viable after 160 years of climate change. As plans developed, the team's ambitions grew to encompass our work as citizen scientists and communicate what environmental change looks like at altitude. 
The data-rich observations recorded in my nature journal, combined with Zoe Salt's incredible photography, helped to convey the reality of alpine global warming, while simultaneously creating deep personal connections to the natural world.
How Nature Journaling Contributes to Scientific Research
Nature Journaling Captures Long-term Observations and Patterns in Nature
Earlier, I described a nature journal as "a mobile laboratory". While on expedition, I not only recorded data from scientific sampling sites, I made sure to include a minimum baseline of relevant data with every field observation. Now let's shift this example to you. 
Imagine if you simply looked out your window every morning, taking note of various happenings before going about your daily routine. Now if you were to record, for example, what the sky looked like every morning for a year, you would actually have a pretty concise set of observations. 
What would make these observations even more robust would be adding these "baseline data" elements: the date, time, location, and temperature. With these additional elements, you have created an accurate database of seasonal weather patterns in your specific area. If you did this every day for 5 years, you would be the local weather expert! A great example of this kind of practice in action is written about in one of my favorite books: "A Sand County Almanac by Aldo Leopold".
This practical application of daily nature journaling can contribute to citizen science projects in almost every field. One project that is just out of this world, involved a citizen science collaboration with NASA that resulted in the discovery of a system of five planets outside of our solar system. The sky is apparently not the limit! (I'll stop with the space puns, now).
Every Nature Journal Counts in the World of Citizen Science
Start Your Nature Journaling Journey
Hopefully, this article provides you with a good perspective of how nature journaling can be a great way to contribute valuable data to scientific research. Even as a hobby in its own right, nature journaling has made my time in nature more enjoyable and has taught me how to be a more observant artist and hiker. It feels very special to have a shelf full of personal experiences in nature to return to in my professional work, but even more so, I can share these experiences with my family. 
The potential for having a profound impact on a global scale begins by building bridges between individuals through shared experiences. Participating in citizen science projects not only adds immense value to your time in nature, but also helps scientists around the world to conduct important research at a massive scale. Who knows? Maybe your nature journaling practice will help future generations connect with the great outdoors in some wonderfully unpredictable way.  
Helpful Nature Journaling and Citizen Science Resources for You
I hope you found this article helpful! I've added even more helpful nature journaling resources to this FREE downloadable field guide sample. Subscribe and you'll get helpful nature journaling techniques to try on your own in nature!
MORE Nature Journaling and Citizen Science Resources
A great resource for learning about nature systems is the Tristian Gooley Collection. This series of books not only made me a much better wilderness guide, they also helped me see nature through a completely different lens. You'll also want to check out the work of naturalist, artist and teacher John Muir Laws. Another great book to check out is The Invention of Nature by Andrea Wulf. If this doesn't inspire you to start nature journaling, I don't know what will!
I already wrote an article recommending my favorite nature journaling supplies, but in case you want to get started right this second, I recommend getting a really nice hardcover sketchbook by Hahnemuhle. This is the Rolss-Royce of sketchbooks in my opinion. Believe me, I've gone through A LOT of different brands and this one consistently stands the test of time, (and rain).
Speaking of rain, if you're the kind of person who would rather carry a pocket sized notebook designed for all manner of weather, check out the Rite in the Rain weatherproof products. If that's not your speed and you want to take "sexy" to a whole new level, you can mimic me and put your nature journal in a waterproof waist pack. One time, a trip got really sad when my journal got ruined in the rain. Don't be that person! 
If you made it this far, chances are your mouth will water at the idea of having a fancy leather nature journal. Fear not, I have been using Rustico products for years, and although I don't recommend them for field work, I absolutely recommend them as a "at home" or more "sophisticated and refined" version of your field notes.
Finally, if you want a little more guidance and inspiration for your nature journaling journey, check out my Introduction to Nature Journaling – Online Workshop. Thanks again for reading!