How to Draw Beginners [FREE INTRO]
How to Draw Beginners is a FREE drawing intro that not only explains HOW to start drawing, but how to find WHAT to draw, as well. Try this proven drawing system and put your skills to the test.
Learning how to draw can be overwhelming, which is why so many of us either practice drawing in secret or avoid it entirely. That's why I put together this handy step-by-step intro entitled "How to Draw Beginners". Chances are, when you were a kid, drawing was something you purely did for fun. Let's start there.
I want to invite you to participate in a hobby that has added so much value to my adult life, especially where my adventures and family memories are concerned. If you take the time to practice this system, you will be able to draw anything, and I sincerely mean that. All you need is a pencil and some blank paper. I've even created a list to show you how to build your own pencil drawing kit. 
About 10 years ago, I reached a point where I needed a creative outlet in my life. My career eclipsed many of my non-work interests, so this outlet needed to be something that was fun, accessible, and not very time consuming. I had kept sketchbooks throughout college, and although I wasn't a particularly good artist, this hobby was perfect for keeping track of ideas, documenting experiences, and enjoying my downtime creatively. I decided it was time to start drawing again. The only question was "what should I draw?".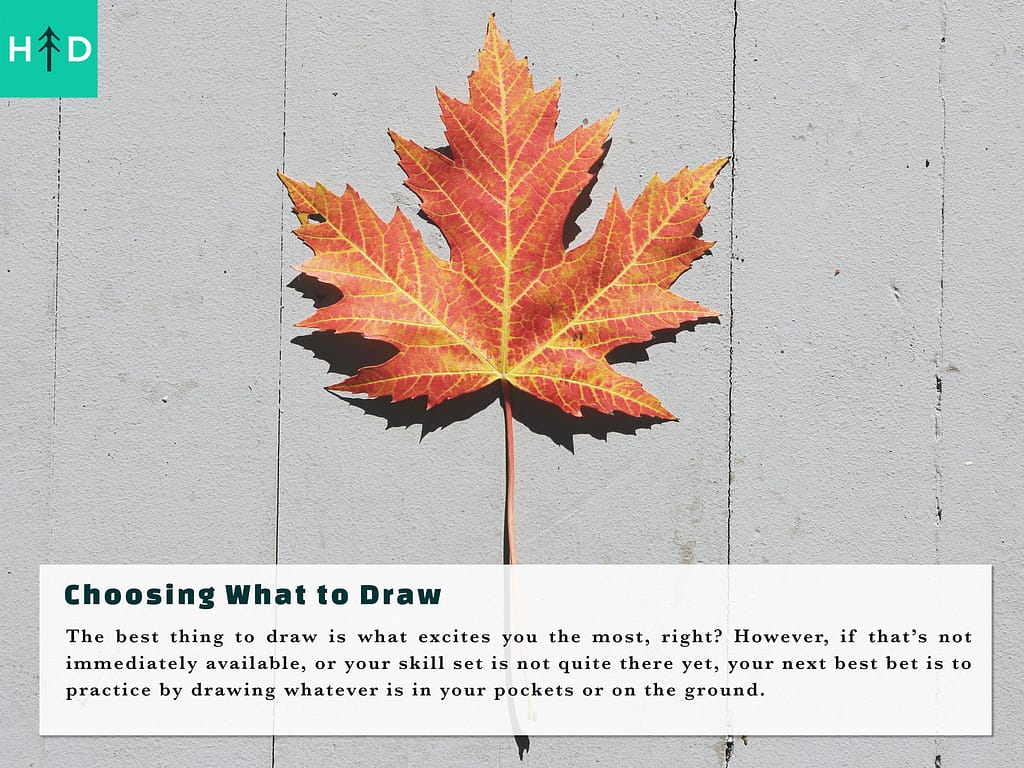 Finding a good subject to draw is like a scavenger hunt. The best thing to draw is what excites you the most, right? However, if that's not immediately available, or your skill set is not quite there yet, your next best bet is to practice by drawing whatever is in your pockets or on the ground. I sincerely believe that drawing from life is the best place to start practicing. Consider the value of drawing an object from nature such as a feather or leaf. These are great 3D objects for warm-up exercises. In fact, my students and I still warm up for class by drawing nature objects together.
Every Beginner Can Draw a Dot
Seriously, anyone can draw a dot, even if you can't use your hands! So what's your excuse? Let's start by assuming we just picked up nice looking leaf to practice with. The first step in beginning to draw is to estimate the height and width of the object. Don't aim for perfection. Instead, make approximate measurements using only 4 dots, 2 for the height and 2 for the width. This creates a foundation for plotting your blueprint. Every good idea needs a plan, right?
Every Beginner Can Draw a Blueprint
Not a single building is constructed without a blueprint. The same concept is true for constructing a drawing. Using the 4 foundational dots you made earlier, we will now create a blueprint or outline of the object with, you guessed it, more dots! This is still the planning phase of your drawing, so again, don't try to be perfect. If something looks off, you can actively edit your blueprint without even erasing. This is crucial! Always feel comfortable with the fact that you can actively edit your work at any point. Don't feel bad about it, either.
Every Beginner Can Draw a Line
Remember playing connect the dots when you were a kid? This is a similar concept, except you have the added benefit of being able to actively edit your work. There are moments when I realize that my blueprint is a little off, so rather than trace over a mis-measurement, (because that's what it is), I actively edit my work by drawing the line where it needs to be, instead. I do this all the time with zero shame!
You can see this concept in action by watching my FREE video tutorial "How to Draw an Easy Mountain Scene".
How Every Beginner Can Draw
Once your line work is in place, you can finally erase the dots carefully, remembering that you still have an opportunity to actively edit your work until it is exactly what you'd like it to be. This system is going to take practice and patience, but it will not take much time at all to get started. Remember, this "how to draw beginners" intro is for getting started. Try this system a few times using different objects before moving on to more challenging subjects. 
If at any point you begin to feel frustrated, that's OK. Try a less complicated subject and find some relaxation in the process. 
Your Next Steps for How to Draw
Earlier on, I mentioned that you can use this system to draw anything. Let me drive that point home by inviting you to participate in a FREE drawing workshop. This is the system I teach my students in all of my "how to draw beginner level" classes. With it, we can tackle any drawing task, whether its wildlife, plants, landscapes, pets, and more!