Color Pencil Flower Drawing
Learn Color Pencil Flower Drawing!
This Color Pencil Flower Drawing workshop is a two-part color pencil intensive that focuses on the beautiful Blue Flag Iris (aka, Iris versicolor). In this beginner-level class, you will learn the fundamental techniques and concepts needed to create beautiful and vibrant flower drawings using color pencils. 
Each session is 2 hours long. This Color Pencil Flower Drawing workshop will provide you with the foundation needed for continuing your nature drawing practice for years to come.
Why Try Color Pencil Flower Drawing?
Nature drawing, especially color pencil drawing, helps you to connect more deeply with the natural world via direct observation. The simple act of starting a drawing slows you down long enough to notice details about a subject that would otherwise go unnoticed.
Human beings are natural explorers. We take joy in understanding the world around us & recognize the value of attaining knowledge & skills through experience & practice.
Access This Workshop Instantly
Supplies You Need for Color Pencil Flower Drawing
Nature Drawing is probably one of the most affordable hobbies out there. You don't need much to get started! However, color pencils can become a little costly, especially if you're investing in a full professional grade set. You don't need to get the high end materials to get started, just keep an eye open for a brand that has a high pigment-to-wax ratio. You want more pigment and less wax in your pencils. 
These are the supplies that you need in order to participate in this Color Pencil Flower Drawing workshop. Please note that some of the art supply links are Amazon Associate links. You can help support Hike And Draw by using these links to purchase supplies.
Basic set of GOOD color pencils (I prefer Prismacolor or Caran D'ache)
Tinted drawing paper, either off white or gray with a smooth surface ( I like Strathmore).
Regular pencil for the initial sketch
Kneadable eraser for correcting mistakes
Blending tools (tortillons, blending stumps, or cotton swab)
Optional: Acrylic matte fixative spray to protect the finished artwork
Click here for a complete list of pencil drawing tools that I use »
Please Note: This class is accessible from any web device, however, a device with a larger screen such as a tablet or PC will make for a better experience.
Meet Your Color Pencil Flower Drawing Instructor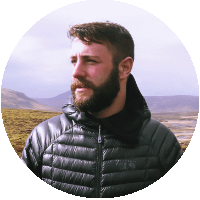 James Sisti
Instructor + Founder
James is a professional artist and wilderness guide. His mission is to help people connect with nature through art.
Over 10 years of professional experience
Original lessons and content
One-to-one feedback
Polite and professional
How to Cultivate More Color Pencil Drawing Skills
After completing this two-part intensive, you can continue to improve your Color Pencil Drawing skills by practicing with a more complex flower species, experimenting with different blending techniques and tools, and DEFINITELY practicing the techniques you've learned. You can also:
Remember, practice and patience are key to mastering any art technique. Keep exploring, creating, and enjoying the process of bringing beautiful flowers to life on paper with color pencil!
What's Being Said About Hike And Draw
"Developing a drawing practice has helped me to find more stillness as a naturalist & strengthened my eye as a photographer."
"I love that I am able to attend a live workshop from my home in Australia. Very impressed with the way in which Hike And Draw has been able to establish a supportive & informative learning environment."
Register for Color Pencil Flower Drawing by Completing the Form Below
*Setting up a PayPal account is simple and secure. Simply select the "Create New Account" option at checkout if you do not have a PayPal account. If you already have a PayPal account, simply sign in during checkout.